9 WAYS TO DIG IN TO THE SOUTH BEACH WINE & FOOD FESTIVAL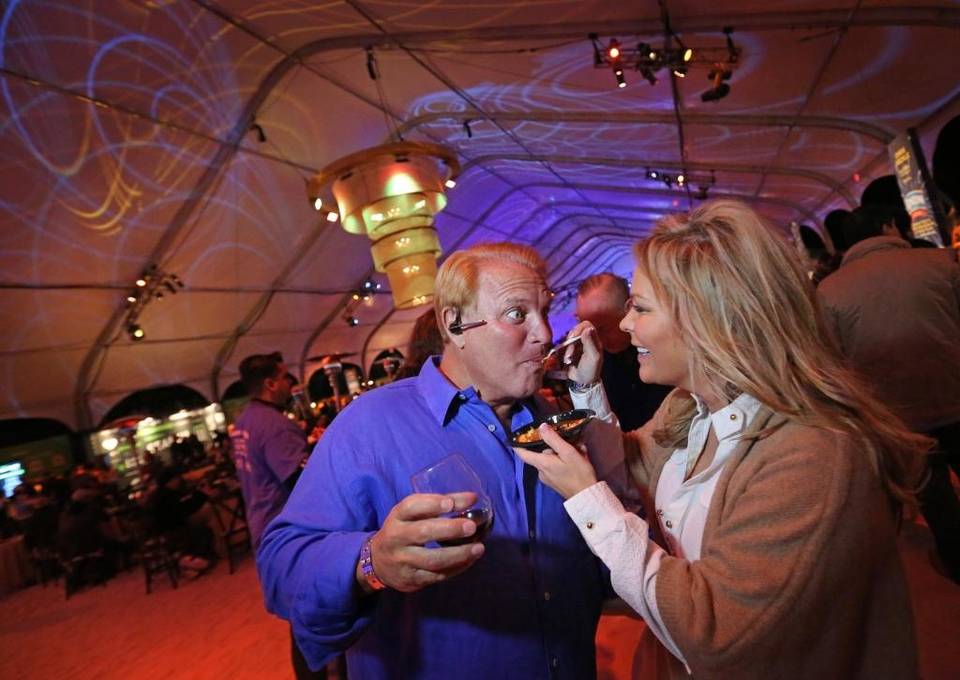 BY Evan S. Benn for Miami Herald

Like a hefty eater, the South Beach Wine & Food Festival has seen its waistline expand over the years.
The festival, now in its 15th year and having raised more than $22 million for Florida International University's Chaplin School of Hospitality & Tourism Management, jumps off Wednesday night with Food Network chef Robert Irvine cooking at Fort Lauderdale's Bonnet House and spills over through Sunday with dinners, tastings and parties in Miami Beach, Miami's Design District, South Miami and Coral Gables.
Most of the 80-plus events are sold out — including $85 wine seminars and
a $1,500 dinner from French "Chef of the Century" Joël Robuchon
— but some tickets remain. Here are nine South Beach Wine & Food Festival eat-arounds that still had tickets as of press time (21 and older unless noted):
1. Barilla's Italian Bites on the Beach hosted by Giada De Laurentiis
7-10 p.m. Thursday, on the beach behind the Delano Hotel; $150.
The official kickoff to the South Beach portion of the South Beach Wine & Food Festival, Italian Bites on the Beach features a mix of local and national chefs serving pasta and more. Giada's planning to make orzo meatball skewers, and chef Nunzio Fuschillo of Bocce Ristorante in Miami will dish up rigatoni stuffed with ricotta and prosciutto.
2. Amstel Light Burger Bash hosted by Rachael Ray
7:30-10:30 p.m. Friday, on the beach behind Ritz-Carlton South Beach;$250.
It's the 10th anniversary of one of the festival's top-draw events, and judges David Burtka, Neil Patrick Harris, Natalie Morales, George Motz, Alicia and Mike Piazza and Marcus Samuelsson will decide who will receive this year's Very Best Burger Award, presented by Schweid & Sons.
3. Fun and Fit as a Family
10 a.m.-5 p.m. Saturday-Sunday at Jungle Island; $20.
This family-friendly event allows parents and kids to learn the basics of a healthy lifestyle with Food Network personalities and local chefs. Kids will have the chance to explore the food garden, play sports on the beach and get their hands messy in the interactive kitchen while visiting the animals of Jungle Island.
4. Goya Foods Grand Tasting Village
Noon-5 p.m. Saturday-Sunday, on the beach at 13th Street;$100-$405.
The main attraction of the festival includes a discounted pass ($100) for 3-5 p.m. Sunday or a VIP pass ($405) that gets you in to both full days of food and drink tastings plus reserved seats for all cooking demonstrations. Regular GA day passes are $225. Avoid Beach parking: Free shuttles will run from 11 a.m. to 7 p.m. between North Miami Avenue and Northeast Eighth Street in Miami and 13th Street and Collins Avenue in Miami Beach. Park West is the closest Metromover station to the shuttle drop.
5. Nutrish's Yappie Hour hosted by Rachael Ray
4-6 p.m. Saturday at the Standard Hotel; $95.
Ray and her furry friends are returning for Yappie Hour's second year. She'll dish out treats from her pet-food line, Nutrish, and there will be snacks and vodka drinks for the human crowd.
6. Meatopia presented by Creekstone Farms hosted by Michael Symon
7-10 p.m. Saturday, on the beach behind the Delano Hotel; $250.
Brown spirits, cold beer, barbecued meats and a live performance by Gregg Allman highlight Meatopia. More than 25 chefs from around the country, including Julia Doyne of The Forge in Miami Beach and Alon Shaya of New Orleans, will be cooking and serving.
7. Future of Food Dinner
7-10 p.m. Saturday at 105 NE 24th St., Miami; $200.
Host chefs Matthew Kenney and Jamie Bissonnette explore sustainable, eco-conscious eating at Kenney's forthcoming Plant Food & Wine space in Miami.
8. YogArt presents Buddhas & Bellini
10:30 a.m.-noon Sunday at the Raleigh Hotel; $35.
The Sacred Space in Miami invites festival-goers to take a breather through a session of yoga and relaxation. Healthful bites will be served after, along with bellini, which can be healthful, because, you know, juice.
9. Lucky Chopsticks hosted by Andrew Zimmern
6-9 p.m. Sunday, on the beach behind the Ritz-Carlton South Beach; $150.